Restore Your Curb Appeal!
Best Exterior Cleaning in Ohio | WE R CLEAN AND CLEAR
Our team of courteous, knowledgeable staff will be with you every step of the way. We are here to help you find the right items for your budget. And, we are committed to helping you select the right items for your budget and answering any questions you may have.
Get Your Free Estimate Today
Contact Us
WE OFFER BEAUTIFUL, SPOTLESS CLEANING SERVICES AT AN AFFORDABLE PRICE!
At We-R-Clean & Clear, we take care of all your outdoor cleaning. Our top-of-the-range equipment and absolute attention to detail will result in a perfect clean in every nook and cranny.
Whether you need an expert to remove moss and dirt from your roof, clean your gutters, deck, and more, talk to us. Our power pressure equipment will blast dirt off your home's exteriors and make every window crystal clear.
And this is not all… our pros will handle your deck and fence restoration making them look as good as new! Instead of spending thousands to install new windows, call our window cleaning experts today. With expert cleaning as good as ours, you'll fall in love with your home's exteriors all over again.
We-R-Clean & Clear has your back for all your house washing, window cleaning, concrete cleaning, and more. Our experts will handle your deck and fence restoration and gutter cleaning needs regardless of your location in Canton and Akron.
You can use the contact form on our website to request your free quote or call us at (330) 283-4301.
Deck & Fence Restoration.
Having a well-maintained deck and fence will keep your home looking good long after you construct it. Proper maintaining of the deck and fence will also ensure that they remain functional and secure longer.

Having been in the deck and fence restoration business for years, we know what will work best for your type of fence. Our focus is on exceeding our expectations so you can keep coming back for more.

To allow you to enjoy the beautiful view of your landscape, we'll also handle your window cleaning needs.

To book your deck and fence restoration, call us today.
Call Now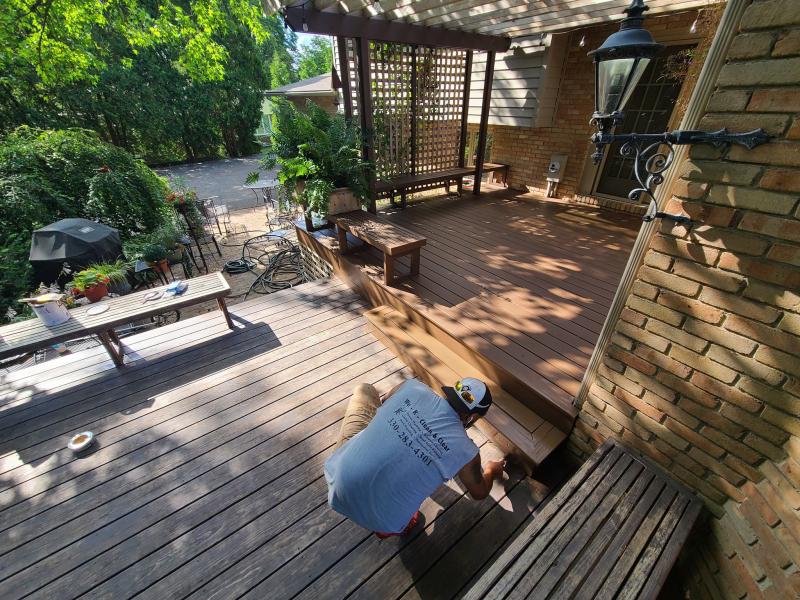 For all your exterior cleaning needs, We-R-Clean & Clear has the expertise and the tools to handle it. Our pros will take care of your window cleaning, pressure washing, roof cleaning, gutter cleaning, and more. Whether you reside in Akron or Canton, we'll come to you and provide that perfect clean for your property.
Call us now for your free estimate or to schedule your next exterior cleaning project.